Fast Start is focused on providing the children of our community with the motivation to run and to help make running fun and exciting. The ultimate goal is to create a love of running among our youth. And it is within this newfound love that we hope to develop positive habits that will carry forward into our children's adolescent and adult lives to build a stronger and fitter community.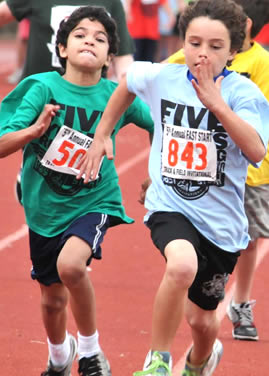 Our objective is simple:
Foster a love of running and promote a healthy lifestyle for the children of our community.
The way we accomplish that objective makes the Fast Start Track and Field Invitational a unique, fun, and rewarding experience for everyone who participates. And with 500 student athletes competing in our inaugural event in January 2006, we know we're well on our way to achieving our objective!
It's About Our Elementary School Kids!
The Fast Start Track and Field Invitational is an annual event for our elementary-aged students who attend one of the nine public elementary schools from the Winter Park, Florida Consortium of Schools (as established through the Winter Park Health Foundation). The students are invited to participate in a day-long track and field event at Showalter Field at Winter Park High School. The participating student athletes of these schools are exposed to various track and field events all aimed at having fun and competing with their friends.
Don't Miss Out on the Fun this Year!
The 13th Annual Invitational will be held on Saturday, January 27, 2018 at Winter Park High School/Showalter Field..  Please note the location change for this year's event!